GOLD EFFORTLESSLY GLOBAL DEVELOPMENT LIMITED
is a cross-region service organization, facing a global market and providing professional international financial service to world Chinese people. Our company has three subsidiaries: GOLD EFFORTLESSLY SPOT GOLD Ltd AND GOLD EFFORTLESSLY FINANCIAL Ltd, GOLD EFFORTLESSLY FUND Ltd. They engaged in trading of international spot gold and financial products, investment management, financing and list practice, funds management and information consultant services respectively. We offer high efficiency and convenient channels for Chinese around the world, who are investing in international finance.
London International Financial Futures and Options Exchange(LIFFE) and London Metal Exchange (LME) are strategic partners of Gold Jinyu. LIFFE, which opened in September 1982, is the earliest and the most active financial futures and options Exchange. LME is the biggest non-ferrous metal Exchange in the world. Price and storage of LEM are the important influencing factors to the worldwide productions and marketing of non-ferrous metal. The strike price in LME is widely used as benchmark price of the world's metal trading.
At present, GOLD EFFORTLESSLY GLOBAL DEVELOPMENT LIMITED, with high reputation in investment and financing industry and market, has been a leading international financial service organization in Greater China Region and Hong Kong. Through unremitting efforts of all staff and great support from clients, GOLD EFFORTLESSLY GLOBAL DEVELOPMENT LIMITED, with its global coverage investment service brand, has became the most trusted Chinese service provider. Currently, Currently, clients locate in different geographic areas. GOLD EFFORTLESSLY GLOBAL DEVELOPMENT LIMITED 's market, taking Greater China Region and Hong Kong as the core, covers the Chinese living area in many counties and regions including USA, Britain, Germany, Japan, Singapore, Taiwan, Australia, New Zealand and South America,etc.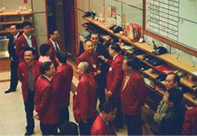 With the tenet of meeting our customer's needs, our group has a senior and professional team, and rich knowledge of financial banks, treasury markets, capital markets, wealth management, corporate finance and fund investment, coordinating with advanced analysis software, we dedicate to providing the best financial services to your distinguished enterprises and the investors. With years of experiences in financial business and financial talents' knowledge, we offer satisfying professional financial services for our clients to create more wealth. Our group also provide advanced and comprehensive support services. Apart from holding various investment seminars and exhibitions to enhance clients' understanding of financial products, we also have professional information research sector to provide our clients and partners a series of quality online services, such as providing formal and convenient platform, prompt resolving solution channel and professional and stable investment information through online customer service and 24-hour free telephone service.